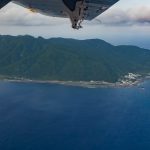 Well. Here we are, over 2 years later, still in Taiwan. I have recently updated some things on the server side, and migrated my websites to a new server, including this blog, which means it's a perfect opportunity to write a new blog post. This time, we went to Orchid Island (Lanyu, 蘭嶼), a small island off the coast of Taitung in the south east of Taiwan.
The island is reachable by a 2 hour ferry ride, or a 20 hour flight in a small 19-passenger Viking DHC6-400 "Twin Otter". The island has a little over 1000 inhabitants, mostly from the indigenous tribe of "Tao" (sometimes called "Yami" tribe, which they don't like to be called, because that's the name the Japanese gave them).
There isn't much in terms of infrastructure there, but it is a beautiful island full of caves, forests, mountains, and coastlines. If you like nature, that's the right place to go. Just keep in mind to minimize litter and garbage, because they already have a hard time managing their own garbage. In the end, we had a negative litter/garbage footprint, as we actually took some plastic bottles that we bought on the island (they actually have 7-11s there!) back home to throw it into the recycling bin.